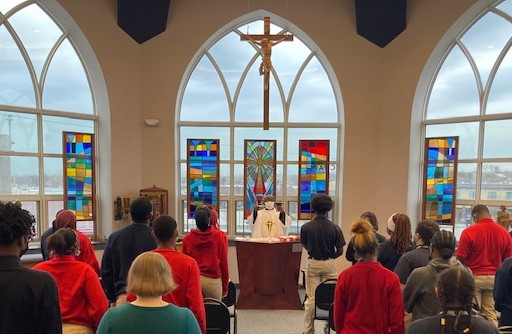 Cleveland Central Catholic's Campus Ministry team offers a retreat for each grade level so that our students can grow on their faith journey.
Our campus ministry team is led by Br. Anthony Essien, OFM Cap, a full-time faculty member at CCCHS. The Theology Department faculty members assist Br. Anthony in preparing our students through instruction prior to each mass they attend. Each student attends mass twice a month throughout the school year in small groups in the Chapel of the Four Saints on the Third Floor of our School Building. Students perform the readings and intentions for each mass.
Each grade level has a retreat that focuses on a specific theme:

    Freshmen Retreat is for the Community

    Sophomore Retreat is for Justice and Service

    Junior Retreat is for Courage and Commitment

    Senior Retreat is for Hope and Creativity



Freshmen Retreat
Freshmen retreat is done off campus and involves working together in team-building activities on a low ropes course. It is led by seniors who spend the afternoon welcoming our freshmen to CCC and imparting some of the wisdom they have learned about high school in their years so far. This retreat also allows for a lot of our freshmen to meet some of their new classmates.
Sophomore Retreat
Sophomore retreat is broken up over two days for the students. They spend a half day learning about the need for service in our area and what Christian service means. Part 2 happens later in the year where each theology class spends a day off campus at a site that helps the community in some way.
Junior Retreat
Junior retreat focuses on moving up as upperclassmen and preparing for their roles as leaders of the school. It is done in the spring off campus, and students hear witnesses about overcoming obstacles to God's love and figuring out how to live a fulfilling spiritual life as mature adults.
Senior Retreat
Senior retreat provides the opportunity for our seniors to spend time reflecting on their lives before and during their time at CCCHS. Seniors are encouraged to think about their future and chart a course to put them on the best path toward becoming the young adults God wants them to be.